Parable
Definition: Parable is a figure of speech in a story or tale that represents a bigger message. More specifically, it is often a short story that presents some type of moral lesson at the end. Some famous examples are "The Boy Who Cried Wolf" and "All is Vanity".
Example:
The Good Samaritan from the Bible is an example of a parable. The parable is about the Good Samaritan, which leads to the moral lesson "love thy neighbor as thyself." This story illustrates a traveller being robbed and beaten, and no one comes to help him. However, eventually, a Samaritan helps him. To summarize, the Good Samaritan's story represents a bigger moral lesson than what is explicitly told; it teaches one to "love thy neighbor as thyself".
Visual: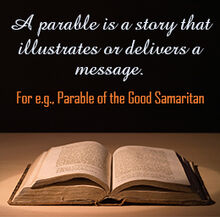 N.p., n.d. Web. <http://www.joerobinson.net/examples-of-parables-in-literature.html>.